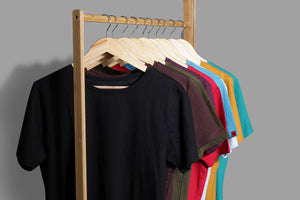 How To Choose Perfect T-Shirt
Thinking of getting a perfect size with comfort, here is your answer which is a T-shirt, a very comfortable Wear used to live a Classic life. T-shirt is with us from the late 19th century.
It is evolved from labour class who randomly cut their jumpsuits in half. The T-shirt has changed every person life, from a small kid to a grown up person, it is available to everyone in terms of shape, size, colour, fitting, pricing, branding etc. From time to time evolution takes place & the same thing happens with T-shirt from quality to branding, it is totally changed.
Choosing T-shirt is as easy as eating food in the restaurant but the only thing you should know is what to eat that means which colour do you like, what is your size, which brand do you prefer, so let's quickly jump into how to choose T-shirt. 
Following points should be considered while buying:-
Size: There are lots of sizes available in the market from small to extra large. You should know your size that means if a T-shirt is purchased for 2-3 year boy/girl then go for small size & so on.

Quality: one of the important points to be considered while buying a T-shirt is the quality of the product. Quality plays quite a big role while finalizing purchase. Purchasing a good quality will be friendly to your skin & does not hurt/irritates you whether you sleep. 

Brand: earlier brand has no importance but now branding plays a great role Because of its goodwill, if a brand has great goodwill then the quality of the product is excellent. 

Pricing: pricing of a product depends on its quality & brand. If going for a big brand leads to reducing weight from pockets but purchasing unbranded           T-shirts on the basis of good quality will be cheaper. 

Colour: colour is very important while choosing a perfect T-shirt. Selecting a light colour T-shirt makes you feel more cooler, comfortable & smart. While taking a dark colour is also a good option but dark colour does not give you the vibe which a light colour, so choose wisely because it is important.
T-shirt is casual & comfortable whether you are travelling, working or playing. T-shirt is totally a symbol of freedom, peace. Now-a-days demand of       T-shirt increased because of its comfort level, low pricing or say affordability. T-shirt does not require any maintenance to make it look good but it looks awesome after wash. People wear T-shirt in parties, meeting, at work & now it is selected as a dress code in some organisations.
In the changing scenario, time & work places T-shirt has its own place & its market share is increased at tremendous level, doing business of T-shirt is now a method of good earning by big brands, outlet of big brands are available every where T-shirts are sold to customer according to their demand. 
Overall it can be said as modern world accepts T-shirt in any form & colour. T-shirt are now become globally favourite wear which is used by everyone with greater convenience.
---